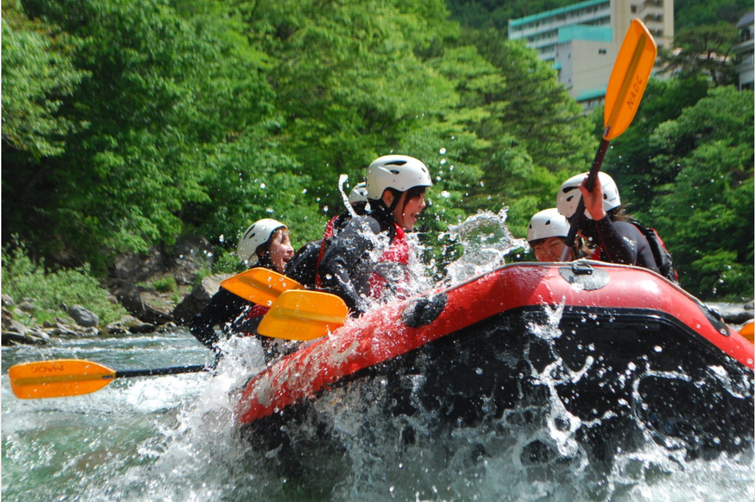 NIIKO
Rafting tour down Kinu river
Be adventurous, have fun and join our white water rafting in Kinu river, Tochigi !
Take a trip down the river and enjoy in group exploring the surrunding of fresh air, beautiful green forests and unformed rocks.
An ideal activity that even a first timer can enjoy the thrill of nature and magnificent scenery of Tochigi.
Make your reservation now !
日程

■Schedule: April 21, 2019 - November 25, 2019

■Tour duration: Three hours
時間

■Time:
Morning tour 8:45am-
Afternoon tour 12:45pm-


※ November --- morning tour only 10:00am
旅行代金

■Price:
8,200yen for adults
6,700yen for children under 12 years old (unsuitable children below 6

※ All children must be accompanied by guardians.
※ Payment must be made by bank deposit or credit card in one week after reservation.

集合場所

■Meeting place: Organizer of the tour, "NAOC" Kinu river base

Address : 871-2 Kinugawaonsendaki, Nikko city, Tochigi
募集人員

■Information:


-Tour minimum 2 persons
-Pregnant women, people who have been drinking alcohol or are sick are not accepted for participating.
-Tour guide included(Japanese speaking only)
-Insurance coverage for rafting
-Life jackets, wet suits and helmet are provided
-Free hot shower and parking place are available
持ち物

■Items to bring with you
-Swimwear and towel
-T-shirt and short pant which can be worn instead of wetsuits during summer time
-Sport shoes to wear on the raft (tight fitting shoes)
-Extra clothes to keep warm during cold weather (rental cloth /300yen)
-Rental shoes are available (for 300yen)
-Band for eyeglasses or goggles
-Drinks
NAOC 

Lecture before rafting

White water rafting
■Cancellation and refund policy:
-In event of severe weather condition such as typhoon, storm or heavy rain, tour will be reconfirmed by 7pm of the night before tour date.
Otherwise, will be proceed on schedule in light rain.
-If the tour is cancelled by the company due to bad weather, we'll refund the amount paid.
-You will receive a phone call from the company.
-Refund will by made by banking into your account.
-No compensation beyond meeting place.


April 21, 2019 - November 25, 2019
【Meeting time】             
-Morning tour 8 :45am
-Afternoon tour  12:45pm       
↓
Lecture time before rafting
↓
Start adventure --- Try Cliff jumping too!       
↓
Tea time & closing
-Morning tour 12:00pm
-Afternoon tour 16:00pm

■旅行企画・実施
えにしトラベル 本社営業所
栃木県知事登録旅行業第2-677号国内旅行業務取扱管理者: 田代賢一 えにしトラベル(株式会社ファーマーズ・フォレスト)
〒321-2118 宇都宮市新里町丙254番地(道の駅うつのみやろまんちっく村内)
担当者の説明に不明な点があれば、旅行業務取扱管理者(当営業所での取引責任者)にご質問ください。
■お電話によるお申し込み


受付時間 / 10:00~18:00