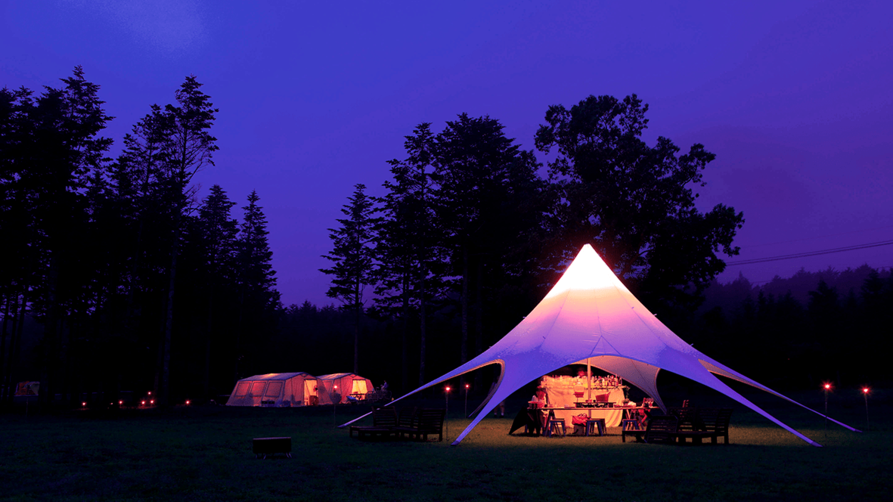 ~Hussle Free Camping out~
Glamping Tour in Ohya
Just be there...
Enjoy a fully-set-up and private comfortable camp site in Ohya,Tochigi prefecture
Ohya is well-known for ancient stone quarry and offers travelers the chance to experience the fascinating quarry scenery.

The functional quarry started producing Ohya stone as the architectural material for buildings in the later of Edo Era. The stone industry had prospered until 1940s and the number of the quarry factories which counted about 240 at that time has decreased to only 8.

Discover the wonder of landscape and history which could be found only here.
We offer a great and exciting glamping experience for you.
日程

Date:
Check-in October 14(Saturday),2017 11:30am-
Checkout October 15(Sunday) 10:00am
旅行代金

Fee:
42,500yen/guest (Tax and service charge not included)


※ 1 night accommodation included three mels and drinks
※ Free transportation---JR Utsunomiya Station or Tobu Utsunomiya Station to Romantic Village and Romantic Village to JR Utsunomiya Station or Tobu Utsunomiya Station

Information:
-Canvas wall tent (maximum 4 guests per tent)
-Furnished with beds, table, chairs, lighting and electric socket
-Inclusive towels and bathroom facilities(shampoo, hair conditioner, toothbrush, body wash, moisturizer, cleansing oil)
-Hair drier available
-Bottles of mineral water
-Prepare casual cloth and comfy shoes for walking
-Due to temperature change between day and night, please prepare warm clothing.
集合場所

Meeting place:
Utsunomiya Romantic Village
Tents surrounded by wonderful nature

Dinner
【Cancellation and refund policy】
-Due to adverse weather conditions, tour might be canceled.
-Full refund or reschedule of tour
-In the event of severe weather condition such as typhoon, storm and heavy rain on the day of the tour: If the tour is canceled by the company, no compensation will be given for transportation beyond the pick-up point.

October 14 (Saturday), 2017 - October 15 (Sunday)
Check-in  11:30am~

【Meals】Lunch, Dinner, Breakfast, Drinks

Hot Spring at Romantic Village is available

Checkout 10:00am
Chef of the day: Motohiro Ishikawa of COURIS ROUGE

■旅行企画・実施
えにしトラベル 本社営業所
栃木県知事登録旅行業第2-677号国内旅行業務取扱管理者: 田代賢一 えにしトラベル(株式会社ファーマーズ・フォレスト)
〒321-2118 宇都宮市新里町丙254番地(道の駅うつのみやろまんちっく村内)
担当者の説明に不明な点があれば、旅行業務取扱管理者(当営業所での取引責任者)にご質問ください。
■お電話によるお申し込み


受付時間 / 10:00~18:00